This week's Hoot Hour episode revolved around India's two big wild cats, Cheetah and Tiger, and the conservation projects started for them. Our speakers extensively spoke about the cheetah, why it went extinct in our country, problems in the implementation of Project Cheetah, and the achievements of Project Tiger.
We would like to congratulate and thank all our speakers for making this week's episode a resounding success!
Megha Thakur (Stepping Stones)
Kavinila (Rak's Pallikkoodam)
Gurmannat Kaur (Jesus' Sacred Heart)
Pooja Bisht (SKV, Aaya Nagar)
Kavinila started by mentioning how the cheetah is the fastest animal on earth and belongs to the family of cats. But despite their speed, cheetahs tend to get tired after a short sprint.
Megha added that it is one of the only two animals with spots. She also pointed out that the cheetah identifies its prey based on the sound they make while walking on grass.
Pooja shared that human activities caused the cheetah to go extinct in India. Kavinila specified that overhunting and human-animal conflict contributed to their extinction. Gurmannat added that they went extinct way back in 1952.
Gurmannat claims that the talks of bringing the cheetah back to India have been on since 2009, but it was only last year that eight cheetahs flew in from Africa as part of Project Cheetah. The Project will hopefully help revive a healthy population of cheetahs in our country, remarks Megha.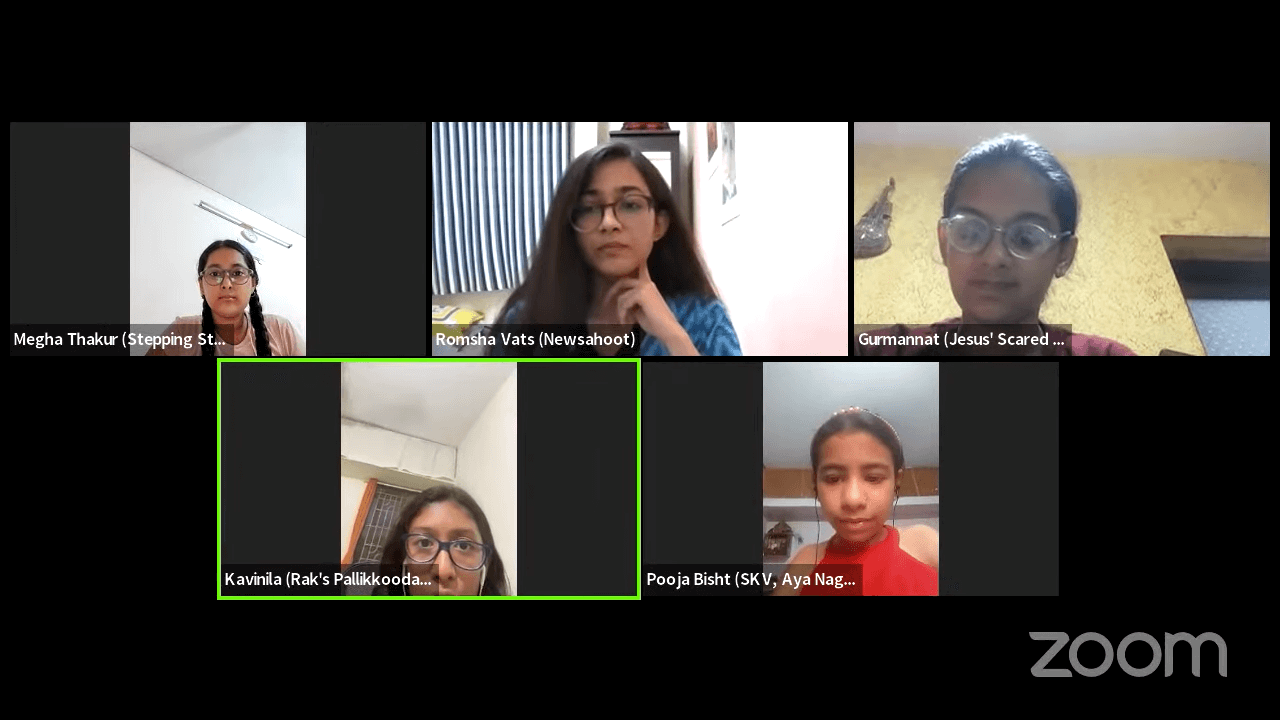 Gurmannat brings up the fact that Project Tiger recently completed 50 years. It has been successful in increasing the tiger population in India. Kavinila notes that India has the largest population of tigers out of all the tiger-bearing countries, around 70 per cent.
The discussion then turns to how poaching and overhunting were the main threats to tigers, while deforestation posed a grave danger to their habitat. Kavinila believes that we should increase the area under tiger habitation. Gurmannat mentions how the tiger's territorial behaviour is the reason they require more space than usual. When they face habitat loss, tigers are more likely to enter village areas causing human-animal conflict.
They also discussed how the extinction of any animal, especially the apex predators, can disrupt the entire food web. It could lead to the disappearance or overpopulation of other animals in the food chain.
Enjoying the Hoot Hour? Keep an eye on Newsahoot's message board to get the chance to be a part of our next episode.